Common Core, in 9-Year-Old Eyes
He could have written about the green toy truck he kept hidden in his room, a reminder of Haiti, a place he did not yet fully understand.
He might have mentioned the second-place trophy he had won for reciting a psalm in French at church — "le bonheur et la grâce m'accompagneront tous les jours de ma vie..." — his one and only award.
He could have noted his dream of becoming an engineer or an architect, to one day have a house with a pool and a laboratory where he would turn wild ideas about winged cars and jet packs into reality.
Vergara's Shaky Significance
Prof. David Bloomfield
---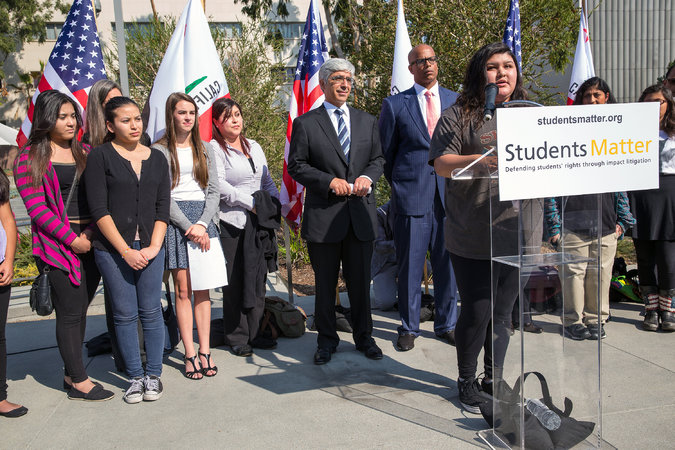 The students of Vergara (Monica Almeida/NY Times)
Know Your Rights: English Language Learner Resource Requirements
The Campaign for Educational Equity undertook an extensive research project on educational

inadequacies

in high-need schools around the state and published findings about widespread

violations of students' educational rights. This brief, part of a series, explains the rights of English

language learners in New York schools and summarizes our key findings in this area.
Standards Scolds Are Getting Us Nowhere
Anyone who remembers the spectacle of the Obama Administration's maneuvering on the Grand Bargain for solving the nation's financial problems should feel in familiar territory watching how the current controversy over the Common Core State Standards is playing out.
What Is the Right Policy Toward Unaccompanied Children at U.S. Borders?
The U.S. government recognizes that the flow of unaccompanied children across its southern border is a genuine migration emergency. On June 2, President Obama assigned responsibility for meeting the needs of the children taken into federal custody to the Federal Emergency Management Agency (FEMA), describing the inflow as an "urgent humanitarian issue." With 60,000 unaccompanied children, mostly from Guatemala, Honduras, or El Salvador, expected to enter federal custody after crossing the border this fiscal year—up from a tenth that number just three years ago (fiscal year 2011)—attention is understandably focused on keeping these children sheltered, fed, and out of harm's way. Governmental capacity to care for the caseload is overwhelmed as fast as it can be installed. Everyone knows that the current trend is unsustainable: a broader policy response must quickly follow on the humanitarian one.
MPI Commentary Assesses Surge in Unaccompanied Child Migration, Offers Some Policy Options
Dear Luis Reyes,

The rapidly rising flow of unaccompanied children across the U.S.-Mexico border represents a genuine migration emergency. More than 60,000 unaccompanied children, overwhelmingly from Guatemala, Honduras, and El Salvador, are expected to enter federal custody after crossing the border this fiscal year—up from a tenth that number just three years ago.
New York State Sets Focus on English-Learners
With the shift to the common standards and recent history of low student-achievement results as catalysts, education leaders in New York state are pushing a new agenda for English-language learners that calls for more accountability for their needs and more opportunities for rigorous bilingual and dual-language instruction.
Called the Blueprint for English-Language Learners Success, the document was approved by the state board of regents this spring. It outlines priorities and expectations for how districts across New York are to provide instruction and support for English-learners in public schools. Among them: that all teachers, regardless of grade level or content expertise, should consider themselves teachers of English-learners; and that school leaders at all levels—including principals and superintendents—are responsible for the academic, linguistic, social, and emotional needs of ELLs.
Building on Immigrants' Strengths to Improve Their Children's Early Education
Senior Researcher in the Early Education Initiative at the New America Foundation.
Children of immigrants make up a growing percentage of the American education system. How can we ensure that they have access to high-quality early education? By supporting their parents.
The last few years have been particularly good ones for advocates of greater investments in early education access. New

research

,

high levels of

public support

,

and

new legislative efforts

are making it easier than ever to imagine a United States in which high-quality early education is available to all children (albeit with plenty of work still ahead)
Why Do Most Black and Latino Students Go to Two-Year Colleges?
A new initiative in east Los Angeles hopes to create a culture that will steer students to four-year schools.
In Los Angeles, the announcement last week made for front-of-the-local-section news. Students at gang- and poverty-ridden East Los Angeles's Garfield High School who meet minimum requirements will now enjoy guaranteed admission to California State University (Los Angeles). The same initiative will also guarantee that students at East L.A. College, a nearby community college, can transfer to Cal State L.A., and the community college will expand its course offerings available to Garfield students.